Your Saratoga Springs Chiropractors.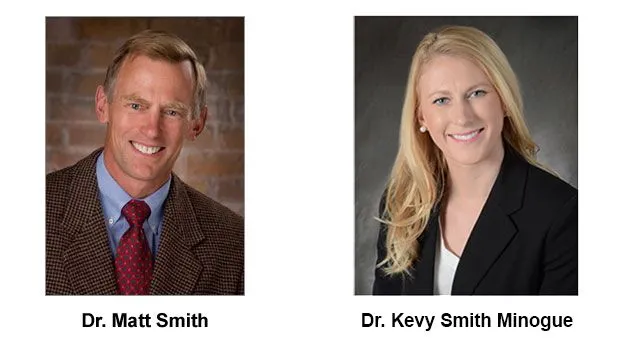 Dr. Matt Smith and his daughter Dr. Kevy Smith Minogue specialize in providing gentle, state-of-the-art, non-surgical treatment of spinal disorders and many sport related injuries.
They use a combination of techniques that painlessly restores flexibility and function to your spine. Then they teach you simple but effective at home stretches and exercises to keep you active and healthy.

The doctors and staff at Smith Chiropractic pride themselves in catering to the first time chiropractic patient. We understand the fears and concerns about being in pain and if chiropractic care can help. Both doctors take the time to fully listen and understand your complaint, and then they sit down
and explain your condition before any treatment is agreed to.


A different approach for the relief of neck and back pain.
When your spine isn't working properly, pain can strike virtually anywhere in your body. Even the simplest movements or activities can cause severe pain, drastically affecting your ability to work, play and enjoy life.

Back Pain affects most people at some point in their life. It can interfere with work and daily activities, even simple tasks, such as bending down to put on your socks can be difficult and frustrating. Treating back pain can be a very confusing experience with different advice from family, friends and physicians. We make it simple! Dr. Smith specializes in explaining the proper treatment needed, done in the right order for the fastest recovery and return to your life.
Lumbar sprain/strain
Herniated discs and sciatica
Degenerative disc disease
Spinal stenosis and arthritis
Inactivity and weight gain

Neck pain is a big problem. It can be the source of constant discomfort, affect daily activities, and cause considerable disruption of sleep. Neck pain can strike at any time. It can be the result of an accident or from years of poor posture. Neck pain can also cause symptoms felt in other areas of the body.
Headaches and shoulder pain
Arm pain, weakness and numbness
Jaw pain, ear pain and tinnitus
Loss of concentration and memory
Insomnia and anxiety
When your spine is working better you can bend, twist and move without pain, allowing you to get back to work, get back to play, and get back to your life!
Benefits of Chiropractic Care:
Fast relief of pain and discomfort
Increase performance and strength
Improves posture and balance
Become more active throughout life
Releaves stress and tension
Become more flexible and energetic